Menu
Printable MenuCatering MenuSpecialty Catering
Nutritional Info (click icon for details)
Gluten Free (Without Bread)
Moby Dick's Gluten Free Options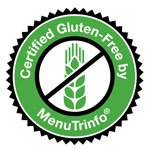 Please know that we practice caution and proper procedures when preparing gluten-free items, however, gluten is present in all of our kitchens. All ingredients have been verified as gluten-free by the third-party consultant, MenuTrinfo®, LLC, but our products can change at any time and the products listed might not always be the products served. Moby Dick cannot be held responsible for ingredient substitutions made by our manufacturers. In consuming our gluten-free items, be aware that there still may be a chance of cross-contact so we cannot guarantee these products for those with Celiac disease or food allergy. Guests are advised to consider this information as it relates to their individual dietary needs and requirements.
* Notice
Contains or may contain raw undercooked ingredients. Consuming raw or undercooked eggs, steaks, hamburgers, fish, and seafood may increase your risk of food-borne illnesses.
We use nuts and nut-based oil in some of our menu items. If you are allergic to nuts, or any other food, please let your server know.