Food Pillars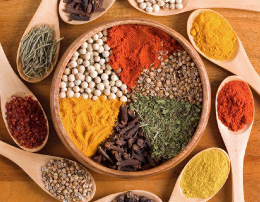 Spices
The significance of spices in the persian cuisine primarily originated from ancient times and heavily influenced by the Indian, Asian and Egyptian culture. Due to its geographical proximity Persia quickly became a trade hub for east and west civilizations allowing many spices, fruits and herbs to pass through its enormous gates. With time, the balanced use of spices in the Persian cuisine had spread its influence to many other countries and cultures across Europe, Asia and South America. At Moby Dick, we take advantage of such exotic spices in a very controlled yet exciting fashion.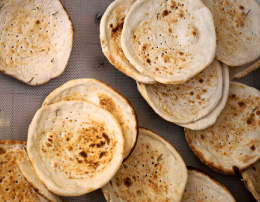 Bread
Second in importance only to Rice is the bread. Pronounced "naan" in the Persian language, the name has slowly become the universal term used for all types of bread. One of the most popular types is the pita. Originally from Greece, the pita bread has over time spread in popularity across various regions of the world, primarily the Middle East. Due to its versatility, it is often used to complement many dishes and side orders on most Persian lunch and dinner tables. At Moby Dick, we take the liberty of making our own pita bread fresh for every customer.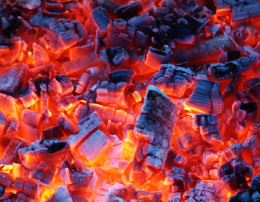 Flames
Mankind has been cooking their meals over open flames, not long after the discovery of fire itself. Done correctly, this cooking technique can help create some very tasty dishes while intensifying and improving flavors. Open fire cooking is mostly done using odorless propane, coal or wood, all of which are used in the Persian culture for centuries. At Moby Dick, a combination of such techniques have been developed in order to create an indirect heat, to allow the meats to cook slowly and thoroughly without compromising the ingredients itself.
Rice
It's unknown when exactly rice was introduced to Persian cooking through the Indian subcontinent but history shows that it truly became a staple in Iranian cuisine by the end of 16th century CE. Traditionally the "Basmati" rice was more so used by the wealthier upper classmen in the northern part of Iran and over time gained popularity throughout the rest of the country. Like wine, there are many varieties of rice to choose from with various textures, sizes, cooking times, water absorption levels and aromas. At Moby Dick, we have done and continue to do extensive research to ensure we are always using the highest quality rice to match our famous kabobs.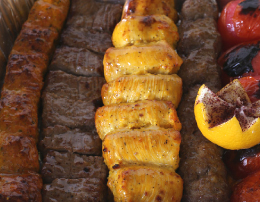 Kabob
The word Kabob (kabab, kebab) originates from the Middle East and often refers to a dish comprised of various cuts of meat, fish or vegetables, skewered or spit and cooked over or on the side of open flames. It increased in popularity over time and spread through central Asia and later across the entire world. This type of dish is now extremely important and a big focal point in many cultures across every continent, bringing families and friends together to celebrate all types of occasions. Nowadays you can see all kinds of protein and veggie kabobs being made into this type of dish from ground to whole cuts of meat being cooked and served for everyone to enjoy. At Moby Dick, we use the best meats available to create the most amazing dishes available and affordable to all.